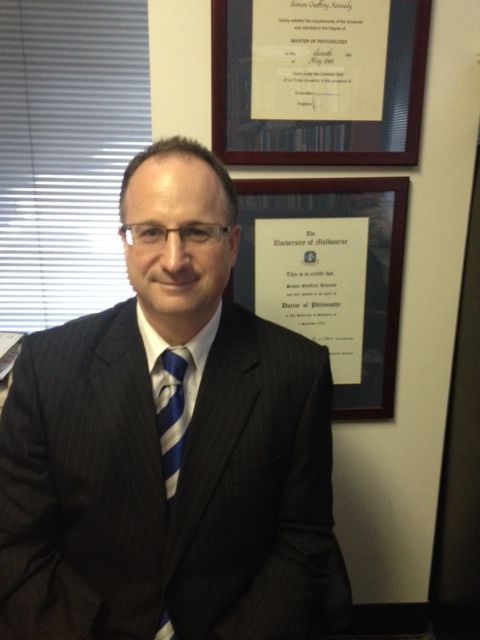 Tel:   (03) 9017 3646       Free call: 1300 323 240
                                         Mob: 0400 664 724
Dr Simon Kennedy & Behaviour Work Group specialize in Psycho-legal evaluation, reporting and testimony, and have undertaken over 10,000 evaluations for Australian courts.
- Family Court: Single expert family reports, individual psychological & parent capacity evaluations
- Psycho-sexual Risk Assessments: family court, criminal, & licensing bodies
- Child Protection Evaluations: Family & parental risk evaluations
- Criminal matters: including risk of reoffending
- Stress Evaluations- civil & compensation
- Victims of Crime Evaluations
- Transport Accident (TAC)
- Work Stress & Workers Compensation 
- Migration matters
- Violence Risk Evaluations
- Independent secondary reviews of psycho-legal evaluations
- Specialist evaluations of cognitive, mental health, & personality functioning
- Evaluation of allegations of child abuse, work stress assessments
Central office:                                                   Level 3, 969 Burke Rd, Camberwell, 3124
Ph: 03 9017  3646                                            Fax: 03 9017 3738
admin@behaviourworkgroup.com.au         www.behaviourworkgroup.com.au
Monthly appointments in Geelong, Ballarat, Bendigo, Warragul, & Dandenong
Interstate & overseas evaluations by arrangement 
--------------------------------------------------------------------------
Behaviour Work Group - Clinical, Forensic & Organisational Psychology
- Psychological assessment
- Specialist Clinical Psychology Assessment & Treatment:
   adults, teens, children, couples, families, groups
- Training, education, supervision & consultation
- Organisational assistance, work stress assessment & EAP
Dr. Simon Kennedy, PhD, MAPS, is a Clinical and Forensic Psychologist with a specialty in psycho-legal assessment, reporting and testimony.  He holds a Bachelor of Behavioural Science, Master of Psychology (Clinical), Doctor of Philosophy (Clinical Psychology) (University of Melbourne), and completed a Post-Doctoral Fellowship in the University of Manchester Institute of Science and Technology. 
Dr. Kennedy is a member of the Clinical, Forensic and Educational/Developmental Colleges of the Australian Psychological Society.  He has been a registered Psychologist since 1984 and has undertaken private practice since 1986.  Dr. Kennedy has held senior positions in Clinical Psychology, was a tenured Senior Lecturer at Australian Catholic University 1991-2003, is a visiting senior lecturer at RMIT University, has published over 20 papers in Australian and international journals, and has presented to over 40 Australian and international conferences.  He has been an independent examiner for the Victorian Workcover Authority since 1995, is an independent examiner for the Transport Accident Commission, and is a performance examiner for The Psychology Board of Australia. 
Dr. Kennedy is an experienced expert witness, having written over 10,000 independent psychological reports for Australian Courts regarding criminal, family, children's, civil and compensation matters, including over 600 child protection matters and over 750 family law matters, including single expert family reports, individual psychological and psychosexual evaluations, 1300 criminal matters, 4000 Workcover and TAC matters, several thousand civil and compensation matters, and has given evidence to these Courts on several hundred occasions. 
He has specific training and expertise in work stress, family evaluation, psychosexual and parental risk evaluations, psychological evaluation (including evaluation of mental health and personality), secondary reviews of family court and psycho-legal evaluations, and cognitive-behavioural and family therapies.  He has published on and presented at national and international conferences on adult and childhood anxiety and stress, work stress and trauma, family court evaluation, family therapy, evaluation of child abuse and assessment of male sexual arousal.